March 21st, 2015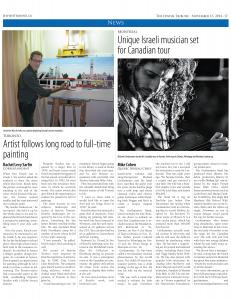 November 11, 2014
Rachel Levy Sarfin
Toronto
Correspondent

ARTIST FOLLOWS LONG ROAD TO FULL-TIME PAINTING

When Ken Kirsch was in
Grade 1, his teacher asked the
students to draw the street
where they lived. Kirsch drew
the picture as though he were
standing at the end of the
street. At the far end of the picture,
the houses looked
smaller and the road narrowed
into a distant point."
"My teacher freaked out," he
recounted. She held it up for
the whole class to see and explained
that Kirsch had drawn
a perspective painting, something
most 6 year olds can't do.

Over the years, Kirsch continued to be interested in art. By Grade 6, he was responsible for the backdrops in school plays. After high school (and a brief stint in the insurance industry), he enrolled in Seneca College's graphic design program. As a student at Seneca, Kirsch gained an appreciation for painting, although he set it aside to pursue a career in advertising. The Toronto native had a successful career in the field, establishing Pinpoint Studios with a fellow Seneca alumna.
Pinpoint Studios was acquired by a larger firm in 1990, and heart issues made Kirsch reconsider being part of the fast-paced, stressful advertising field. In 1992, he went back into the insurance business, in which he currently works. The career switch also gave Kirsch the opportunity to explore the passion he felt for painting.
The artist focuses on two subjects: landscapes and scenes of historic Toronto. Kirsch's landscapes are inspired by his love of the outdoors, something his late father Moishe instilled within him. He also attended B'nai Brith Northland camp for a number of years, where he fell in love with canoeing.
"I love animals," he added. Kirsch enjoys bird watching as well.
His scenes of historic Toronto were inspired by Kirsch's experience in advertising. In 1980, Gray Coach Lines hired him. The company gave Kirsch access to its advertising archives, which included many black and white pictures of Toronto in days gone by.
"It was fascinating to me," he remarked. Kirsch began going to the library to look at books that described the city's past, and he also became acquainted with journalist and Toronto historian Mike Filey.
Filey has provided him with the valuable details that bring Kirsch's scenes of old Toronto to life.
"I want to show what it would look like to open the door and see Yonge Street in 1910," he said.
Kirsch's talent has attracted a great deal of attention. Since taking up painting full time, his work has been featured in 40 shows, and he's well represented at art galleries across the GTA. You can also find his art at galleries in Gravenhurst and Port Carling.
Between Oct. 24 and 26, five of Kirsch's paintings were featured at the McMichael Canadian Art Collection in Kleinburg during its autumn art sale. It was a prestigious event in the Canadian art community: the gallery only selects 50 artists from across the country to display their works at the sale.

To view and purchase more of Kirsch's work, visit kenkirsch.com.

March 21st, 2015
Seneca College Alumni Article
September 2014

PAINTING THE PICTURE OF A SENECA ALUM

Growing up in Toronto, Ontario, Kenneth M Kirsch always had a special talent, eye, and general feel for creating art. It was something that was instilled in him at a young age.

Featured on his website is a report card with a note from his grade six teacher, stating "I hope that Ken will find many opportunities in the future to develop his outstanding artistic ability. He is exceptionally gifted in this area".

Ken was enrolled in Design Arts in the late 70's, it is now called the Graphic Design program. He went on to a successful career in graphic design and advertising with institutions such as, The T. Eaton Company (Eaton's), The Toronto Transit Commission (TTC), and Gray Coach Lines Ltd.

Ken also partnered with Seneca alumna, Pauline Buchman, then owner of Pinpoint Design Studios to form an industry leader in Toronto. After a merger and acquisition with a large international advertising agency, Ken was able to focus his efforts on the work he truly loved. He had reached the pinnacle of his graphic design career and was ready to pursue his craft as a landscape artist.

He is the now the owner of a studio in Thornhill, Ontario, and has taken part in approximately 40 exhibitions and art events since 1980. His work is featured and sold in numerous fine art galleries and exhibited across Canada and worldwide.

Some of Ken's highlights include several top 10 artist votes from 2009 to 2011 at The McMichael Canadian Gallery in Kleinberg, Ontario – a gallery known for showcasing great Canadian art and artists. He was also featured in a television interview at The McMichael with award winning show York Region Living, speaking about his work and passion.

In 2010, he presented Toronto Mayor David Miller with his "Toronto Trillium" painting to commemorate the 100th anniversary of this historic Toronto Island Steamship Ferry.

One of Ken's greatest personal and artistic highlights came during his time at Seneca in 1977 when Chum FM Radio announced that Mick Jagger and the Rolling Stones would be performing a private show at a secret location in Toronto. Ken won tickets to the show by submitting a portrait of Mick Jagger he did at school. The art piece received high praise from his classmates and professors.

Ken has seen the artistic world and technology change from the days of cutting and pasting black and white photos in dark rooms, to where art can now be created through the click of a mouse and social media can help grow his audience internationally.

"It's amazing that today something I paint can be ordered from anywhere in the world and turned in to a greeting card, a phone case, or a canvas that looks just like the original," said Ken. "I have adapted with the modern times but my landscape paintings remain timeless."

Ken is a prime example of the type of world-class talent that has attended Seneca College and developed their skills to become a leader in their field.